Three reasons to return to study from three people who've done it!
01 Nov 2021
Reason 1: To enhancing current skillset and experience
Amy completed a Bachelor of Arts (Public Relations) at RMIT in 2002. Since then, she has worked in various communications and engagement roles in education, construction, environment, and government across the not-for-profit, public, and private sectors.
Amy, who confesses she really loves studying, is currently undertaking a Master of Business Administration at Federation University.
"It's not as daunting as you might think, and you'll know how to do more than you think you can. The hardest bit is signing up. There are so many options for flexible learning and workload there's no excuse. I'm currently happily studying one subject at a time, fitting it around full-time work, other community commitments and juggling three primary school-aged kids. I'm enjoying the pace. I can absorb myself in each subject but can easily pause studies or add extra subjects when it suits me."
Amy is a registered student at her local Country Universities Centre in Wonthaggi.
"Psychologically, it's been great to know the CUC Bass Coast is there to assist, and it makes it feel like not such a solo and lonely journey- there's help if I need it! I've never even been on campus at Fed Uni, so I feel like I identify more with the CUC because it's local, and there are others just like me in Bass Coast!"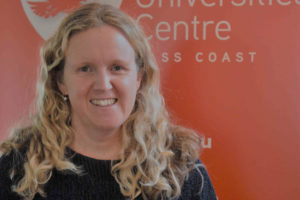 Reason 2: To follow a lifelong dream
Straight out of high school, chef Trish completed an advanced diploma in hospitality management and furthered her hospitality education with an apprenticeship in commercial cookery. She worked in the industry for many years in a range of local hospitality venues. After taking some time off to raise her family, she worked as a chef in the childcare sector, after which she returned to TAFE to complete a Certificate IV in Training and Assessment.
Trish is following her lifelong dream to be a food technology teacher and undertaking a Bachelor of Education Studies at Victoria University.
"My message to others wishing to return to study is to take the plunge and follow their dreams. Everyone deserves to be successful and happy. Finding the right university and applying can be a little daunting, but it is worth taking the time if it means achieving your dreams. Do your research and find the university that suits your needs. Not the one everyone says you should attend."
Trish is a registered student at her local Country Universities Centre in Wonthaggi.
"The CUC Bass Coast has been a lifesaver for me. The Centre provides me with a quiet and safe place to study without distractions. Our Centre Manager has been a massive support; she is always there if you need her. Her guidance around further study has been invaluable. I have recently utilised the Learning Skills Advisor when I doubted my abilities to complete an assessment. He was super supportive and reassuring, giving me the confidence, I needed to continue with my assessment. Without the CUC, I would not have been able to achieve the results I have so far. I am very grateful for the opportunities the Centre has provided, and I hope to be able to use it for my next adventure, my Masters of Secondary Teaching."

Reason 3: To enjoy the learning journey 
Youth worker Matt pursued his passion for photography out of high school. He explored several careers, including hospitality, civil construction, project management and owning his own skip recycling business.
"I am a glutton for experience and curious to live as many lives as I can."
After having a gap year working in a pub in London at 32, he realised his passion for mentoring. He completed a Certificate IV in youth work.
" I had an awesome teacher who said, Matt, you are good enough to do a bachelor. No one had ever told me that before."
In 2016 Matt returned to study, enrolling in a bachelor's degree, and this semester, he will complete his Master of Professional Psychology from Deakin University.
"My message to others wishing to return to study is to scaffold their learning. Set yourself up for success by not biting off more than you can chew. It is essential to reach out for support, ask for help, and create networks. Basic admin and organisational skills are critical to managing your conflicting schedules."
Matt is a registered student at his local Country Universities Centre in Wonthaggi.
"The academic community that CUC Bass Coast provides meant more to me than the fantastic physical space. The support the Centre staff provided was invaluable, the Learning Skills Advisor accountability buddy program was great, just knowing that someone was on this journey with me kept me motivated."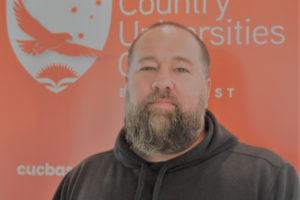 If it's your first time at uni or your first time back in a long time, you may have some questions about what it will be like to return to learning.
You're not the only one. 68% of our current registered students at CUC Bass Coast are aged over 25, and some are 'non–Year 12s' entering the study with life experiences, such as pursuing careers and raising families. Others are post-grad students enhancing their current skillsets.
Join us for an online information session to share your concerns, explore options and learn tips for a positive university experience. Returning to Learning information sessions- Thursday 25/11/2021 12.00pm or Thursday 25/11/20217 7.00pm
For more information contact our Centre Manager Andrea Evans-McCall