Supporting Bass Coast Students to Succeed
07 Sep 2021
Bass Coast students now have access to free learning skills advice in their local community. Our Learning Skills Advisor Program has been created specifically for regional students and is now delivered at Country Universities Centre Bass Coast (CUC).
"The LSA program is designed to build confidence and academic skills for regional students who are studying via distance. Getting settled into study and learning the skills required to be successful at university, such as navigating online portals, creating study plans, and understanding new university terminology can be difficult. This program offers local face-to-face support to assist students in achieving their study goals. "– Monica Davis, Country Universities Centre CEO.
CUC Bass Coast has appointed Dr Aidan Windle in the role of Learning Skills Advisor (LSA). Aidan has a PhD in English from LaTrobe University, a graduate diploma in Education from The University of Melbourne and a Bachelor of Arts (Honours) from Deakin University. Throughout his higher education studies, Aidan met the challenges of completing some of his studies remotely, while also fitting in with various other commitments.
Recently our Centre Manager Andrea sat down with Aidan for a Q & A.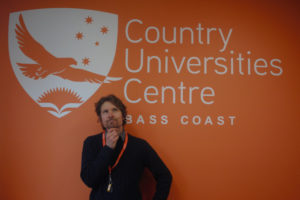 Q: How do you see your role as our Learning Skills Advisor?
"My role as LSA is to run programs for skill sessions, referencing, research skills, academic writing and helping students organise themselves to manage different commitments in their lives."
Q: What has been your most unusual experience in the education sector?
 "Performing a one-person puppet show in a preschool for disadvantaged children in Ecuador".
Q: What inspires you?
 "People who persevere in spite of all sorts of barriers to study. Charles Perkins, Australia's first Aboriginal university graduate, faced prejudice that I can barely imagine. The one per cent of refugee youth around the world who get to study at university, and women in Afghanistan like Shamsea Alizada, who survived a bombing before topping last year's national university entrance exam, have overcome incredible adversity. Their achievements should give us hope when it all feels too hard".
Q: What are your tips for being a successful student?
 "There are so many! To start with, don't hold back from asking questions. A lot of students put things off until the last minute because there is something blocking them, perhaps difficulty finding sources or writing an assignment. Identifying what that barrier is and seeking assistance early on gives students the best chance of success."
The LSA program is a free service designed to support our students through their studies. Whatever the stumbling block, we are here to help all our students, from brand new to studies to more experienced students are welcome to book a study session for any question, small or large.
Register with CUC Bass Coast to grow your academic mindset.