CUC Bass Coast Centre Manager has hit the ground running
27 Jan 2021
CUC Bass Coast will be dedicated local study and learning spaces for higher education students in the Bass Coast region. The Centre will be in 21-23 Baillieu Street East, Wonthaggi. CUC Bass Coast is part of the Country Universities Centre affiliate network, which includes 12 Centres in 15 locations across Australia. The Centre is supported by the Australian Government under the Regional University Centres Program alongside key local support.
The recruitment of the Centre Manager Andrea Evans-McCall has raised the Centres profile in the community.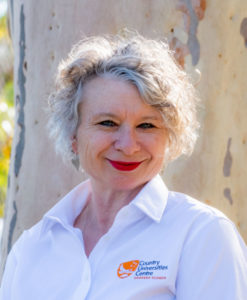 CUC Bass Coast Chair, Martin Keogh said.
I am delighted with the appointment of Andrea Evans- McCall to the position of Centre Manager.

Andrea's extensive experience and expertise in the education sector, her involvement at community level and her passion for ongoing education will provide our centre with many advantages.

On behalf of the board of directors of CUC Bass Coast I wish her every success in the role and look forward to working with her to provide greater access to tertiary education within and beyond the Bass Coast Shire.
Prior to joining CUC Bass Coast, Andrea was in the role of the National Disability Condition officer (NDCO) for Gippsland for seven years, a program funded by the Commonwealth Department of Education and Training. Andrea brings a depth of knowledge as a practitioner and in leadership from across a range of educational sectors in practice and policy. She is passionate about inclusive education and learning, sharing through keynotes, workshops, networks, and facilitation.
Andrea's areas of expertise and knowledge include inclusive teaching, post school career planning and employability skills development. Andrea has travelled and lived overseas, she returned home to the Bass Coast twelve years ago and she is a proud mother of two sons.
Andrea is a 2020 Churchill Fellow. Her fellowship project aim is to investigate employability skills development in inclusive learning environments.
Andrea said that CUC Bass Coast is a great initiative.
I am really excited to take up this new opportunity to drive change and empower the Bass Coast community to reach their potential through higher education.
Any interested students should feel free to contact CUC Bass Coast Centre Manager, Andrea Evans-McCall.
For media contact: CUC Bass Coast Centre Manager Andrea Evans-McCall