Celebrating the first CUC Bass Coast registered student to graduate.
15 Sep 2021
Meet Taj; Taj is the first CUC Bass Coast registered student to graduate.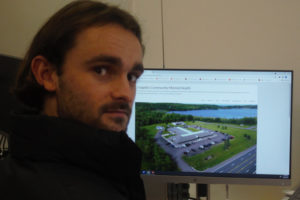 CUC Bass Coast got to be a part of Taj's learning journey in the first semester the Centre opened. Taj was undertaking a Bachelor of Civil Engineering (Honours) at Deakin University. He became a permanent fixture at the Centre while completing his honours thesis, and we are ecstatic to see him graduate. We asked Taj to share his experiences as a regional student.
Q: Why did you choose your degree and what did you enjoy the most about it?
"I chose Civil Engineering due to the amount of work available in the field, available in both Australia and abroad. Most enjoyed the connection I made through the course, with like-minded people."
Q: How important was having the CUC in your local town to you and why?
"I Would not have been able to complete my thesis without the centre, the ability to step away from my desk in my bedroom and find somewhere dedicated to purely studying helped the most. It provided a great environment to focus on what needed to be done."
Q: Were there any specific challenges that you faced as an online regional student? How did the CUC help you to overcome these challenges?
"The lack of support from other classmates when I moved online was a challenge, I couldn't go to uni and study with my friends, which made it hard to motivate myself at home. Going into the centre fixed the lack of motivation however."
Q: Are you still living in a regional town and what do you love about it?
"Love how quiet it is, I may move to the city however I love being by the ocean."
Q: Where are you working now and what do you like about it? Is your career path what you originally intended?
"Working for the local water authority, never had a select career path and still do not, not sure where I will end up but happy with what is going on right now."
Q: What advice would you give to other regional and rural people who are considering higher education?
"Find a centre like this or even a regional library, breaking the study at home routine was helpful for hitting deadlines. Would also recommend moving to university, as the friends I have made there have been priceless."
Study doesn't need to be a slog when you've got the right people around you, ready to motivate and cheer you on. CUC Bass Coast is part of a network of regionally located study communities designed for students to excel. Equipping students with a supportive environment, the study facilities provide access to campus-level technology, a network of fellow students, a Centre Manager, and academic advice.
Want to find out more about local CUC? Come into your local Country Universities Centre and speak to our staff or send us an email
To register your interest in joining CUC Bass Coast, please click here.