Bass Coast Ambition Program – Shaping the Future of our Community
13 Sep 2022
The Country Universities Centre Bass Coast mission is: Provide our people with access to university education.
At CUC Bass Coast, we are driving change in regional education by empowering the Bass Coast community to fulfil their potential through higher education. Our Centre provides the infrastructure for students to succeed while learning remotely, including high-speed internet, quiet study spaces, and local face-to-face academic support. We are increasing access by providing a highly connected learning community in Wonthaggi to overcome the barriers to success in higher education. Part of our commitment to improving higher education aspirations and shaping the future of our community is to inspire the next generation by supporting age-appropriate career-related experiences in our schools.
A career is a lifelong journey that starts much earlier than most people realise. From birth, we are surrounded by people and experiences that shape how we see the world. Inevitably, this influences our careers, shaping what we think we are good at, what we value and what we believe is possible.

Tristram Hooley Professor of Career Education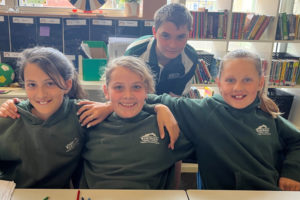 CUC Bass Coast in partnership with community stakeholders Bass Coast Health (BCH), South Gippsland Bass Coast Local Learning and Employment Network (LLEN) and Wonthaggi Primary School are delivering a program to year five students aimed at providing  young people with the inspiration, motivation, knowledge, skills, and opportunities they need to help them achieve their potential. The pilot program is about exploring how we offer our young people consistently high-quality, career-related learning that will spark curiosity, self-belief, and improving skills with targeted interventions that also includes parents and families and the wider community.
Research shows that children's career aspirations are most influenced by who they know, their parents and friends of parents and TV and media. Decisions made at primary age can impact future career opportunities. Raising awareness of employment options and enabling the belief that higher education is an option in our community is crucial at an early age. 

Andrea Evans-McCall CUC BC Centre Manager